Sometimes you may want to use multiple email addresses in your Gmail account. Follow these steps to use Gmail to send from your other email addresses.
The solution, step by step
It all starts in Gmail settings:
Here are the steps to do it easily (to be done on a computer)
Go to your Gmail account
In the "Settings" tab, click on "See all settings" and then on the "Accounts and Import" tab
Click on "Add another email address" under the "Send mail as" section
You will then need to fill in your first and last name as well as the email address you wish to add. The other email address can be either @gmail or not.
Finalize according to your situation:
If the secondary email address is from a Gmail account, click on the following: "Next step" > "Send verification". Once you have clicked on this item, you will instantly receive a verification email from Gmail on your entered email address. This allows you to confirm that you are the owner of the Gmail address.
See also: translate in Gmail app
If the email address is another email service than Gmail, you will need to provide the SMTP server, username and password that allow you to access this account.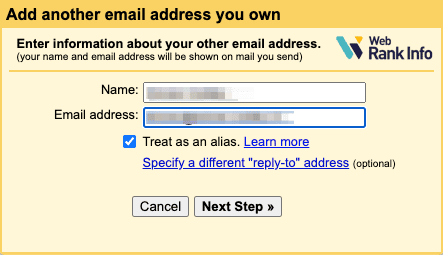 Tip: change your Gmail password easily
To confirm that you are the owner of the email address, you have two options:
either you click directly on the link provided in the email
or you enter the verification code mentioned in the body of the email. This code must be indicated in the "Accounts" section, within the email settings.
See also: how to access my Gmail mailbox on computer?
How to set up the options
Once you have added an email address (or several), don't forget to look at the different options :
Additional email addresses options
Options for additional email addresses used to send emails in Gmail
See also: how to request a receipt in Gmail and how to send attachment in Gmail
Tips
Is there a limit to the number of email addresses I can send to in Gmail?
Yes, but the limit is so high that it won't limit you: you can send emails from 99 different email addresses!
Can I create new email addresses in my Gmail?
See also: How to use the Cc and Bcc options in Gmail?
Back to tips and tricks for using Gmail